A report from Greenwave Advisors projects the legalized marijuana industry is on pace to eclipse $44 billion in revenue by 2020. A "comprehensive research and financial analysis for the emerging legalized marijuana industry," looked at a model where cannabis is legalized at the federal level in all fifty states, compared to the more likely path where it's legalized in 18-20 states, including California.
To put that number in perspective, $35 billion - $44 billion (based on federal legalization in all 50 states) is more than three times that of the NFL's $10 billion in 2014. According to Sports Business Daily, the NFL's goal is to grow revenue by $1 billion a year which would put the league's sales at $15 billion in 2020, however, recent public relations issues and a new major movie release titled Concussion starring Will Smith peels back the covers on the NFL's ugly underbelly. It remains to be seen how the NFL respond to growing reports of neglecting players in the Players Union, or if the league will lose revenue to lawsuits or larger payments to retired players.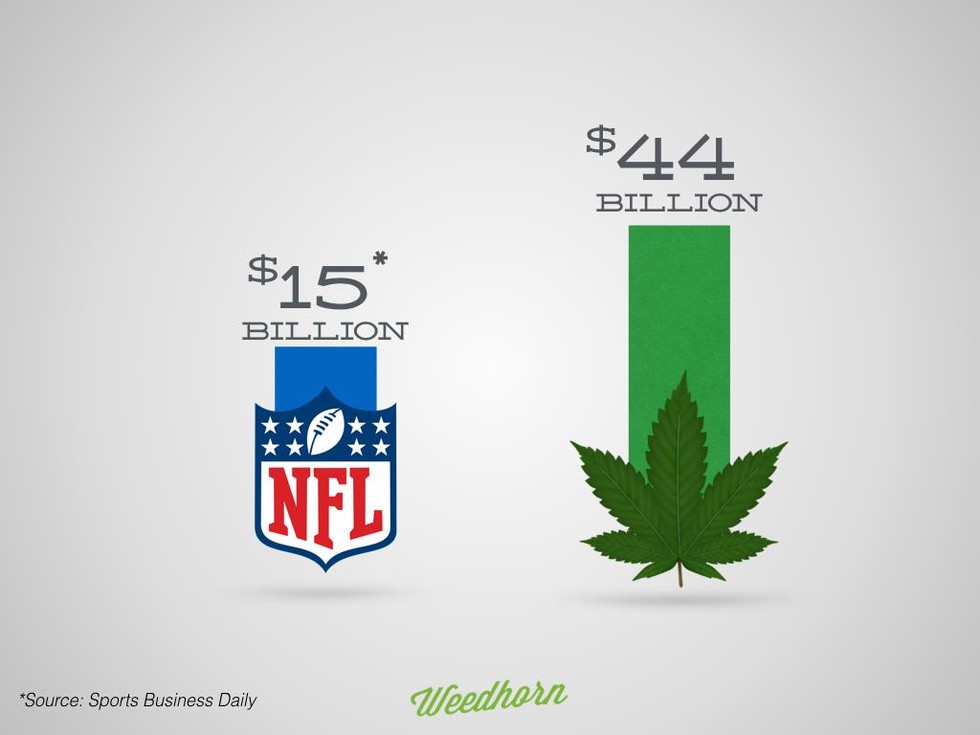 Greenwave's projected numbers are based off the assumption of likely recreational and medical marijuana markets set to open up by 2020. Without federal legalization of recreational cannabis in all 50 states, the revenue numbers are conservatively projected to be $21 billion. However, the latest spending bill approved by congress quietly lifted the ban on medical marijuana in all 50 states.

There's a considerable margin for error of Greenwave's numbers. The black market for cannabis is estimated to be anywhere from $10 billion to $120 billion. States that have legalized recreational marijuana have found their early tax revenue estimates were too low. Colorado had to give some tax revenue back to residents in September after collecting more than anticipated when the state legalized recreational marijuana. Oregon's early numbers paint a similar picture suggested projected revenue numbers may be low.
2016 will be a pivotal year for the cannabis industry. The biggest question is whether the next U.S. president will stand in the way of progress and stunt the industry's growth or choose to build a framework around sensible regulation of cannabis.
Like, Comment or Share: