We know who today's pro-cannabis hollywood actors are. Seth Rogan, Cheech and Chong, Susan Sarandon, Woody Harrelson and Matthew McConaughey have worn the weed badge with pride for a long time. But there's a veritable who's who of Hollywood yesteryear who also loved to get lifted, yet weren't able to come out of the grow closet so easily.
Back then, media was more conservative and the choices of media channels were few. Today, celebrities can post photos on Instagram puffing weed without censorship. In 1950 there was CBS, NBC, ABC magazines and terrestrial radio. The point being, with all the hundreds of ways celebrities can communicate with fans today, it's easier for them to use their influence to demonstrate cannabis isn't such a bad thing.
These red carpet regulars didn't have that luxury:
1. James Garner
via purpleclover
Before he made everyone bawl their eyes out as the older Noah in The Notebook, James Garner was the MAN during the 1970's. Marijuana was getting pretty mainstream when he starred in The Rockford Files from 1974 through 1980. Early in his career he loved smoking weed during the 1940's and 1950's. By the time he did a five-year stint on Maverick, he'd been a cannabis lover for over a decade.
In his 2012 memoir, The Garner Files, he said he had smoked marijuana for over fifty years. In an interview right before his passing at 86 years old he said, "I don't know where I'd be without it." We knew this guy was a stud on screen, but we had no idea he was off screen as well.
2. Bing Crosby
via wikipedia
They used to call him "ol' Blue Eyes" but that's probably because "ol' red eyes" didn't have as nice of a ring to it. Crosby was a registered Republican who won an Oscar for playing a priest in the 1945 hit, Going My Way. But oh my, Bing loved his buds. Before it became illegal in 1937 (yeah, he's that old) his friend and legendary jazz icon, Louis Armstrong introduced him to cannabis.
3. Marilyn Monroe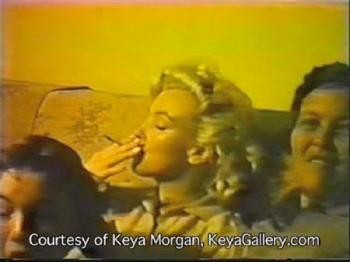 While we can't be 100% sure the legendary sex icon smoked weed, there's a late 1950's home movie that shows her smoking what appears to be a joint. That joint (or at least the end part they kept in the roach all these years for some reason) sold at auction for $275,000 in 2009. In the home video, she appears to have the giggles and appeared to be getting lifted. The amateur filmmaker must've run out of film before they could capture the scene where she gets the munchies.
4. Bob Denver
via wikipedia
The Skipper's little buddy on "Gilligan's Island" was arrested in 1998 for receiving a parcel of marijuana at his home. Denver initially said it had been sent to him by his friend (and fellow pothead) Dawn Wells, who played Mary Ann on the '60s sitcom, but he refused to confirm that in court and ended up on probation. Few were shocked. "I've been doing it for years," said Denver, who began his career as Maynard G. Krebs—TV's first stoner—on "The Many Loves of Dobie Gillis," which aired from 1959 to 1963.

5. Tony Curtis
via sick-celebrities
He's not just Jamie Lee Curtis' dad. In 1957's "Sweet Smell of Success," he had the role of a sleazy press agent who slips some joints into an innocent musician's pocket, setting him up for an arrest. In real life, the Golden Age star might have kept the ganja for himself. Curtis was busted for possession of cannabis at London's Heathrow Airport in 1970. Within a few years he switched to cocaine, which he eventually quit. In a 1980 People magazine interview, he reminisced: "I used to smoke marijuana, years ago."

6. Peter Sellers
via skip.com
The British actor and comedian had a fondness for marijuana well before he played an uptight attorney who falls for a pot-brownie-baking hippie chick in 1968's "I Love You Alice B. Toklas." Swedish actressBritt Ekland remembers him introducing her to pot on their first date, in 1964. The stuff was so strong she passed out, but Ekland woke up to a sweet note (signed "Inspector Clouseau") and they were married 10 days later.

7. Barbara Streisand
via yahoo
What Dean Martin was to booze, Streisand was to weed—a star who incorporated the idea of getting high into her Vegas act. Some (though not all) of the joints she smoked on stage were merely props, but when word got around, fellow artists like Little Anthony and the Imperials "started sending me the best dope in the world," Streisand recalled in Rolling Stone. "I never ran out."

8. Montgomery Clift
staticmass.net
Novelist and cannabis connoisseur Paul Bowles recalled discovering "very good grass" in a humidor at the home of stage actress Libby Holman, a mentor and lover to Clift in the 1940s and '50s (both were bisexual). The doomed actor was a fixture at her frequent parties in Connecticut, where marijuana was in steady supply. Although Clift smoked it, he couldn't resist the pull of alcohol, which contributed to his death in 1966 at the age of 45.

9. Billy Gray
purpleclover.com
He was Bud (far left) on "Father Knows Best" from 1954 to 1960, but Gray's acting career took a hit in 1962, when a police officer arrested him for possession of "marijuana seeds and residue" at the age of 24. Gray spent 45 days in jail but eventually bounced back. Today the 78-year-old former child star and motorcycle enthusiast co-owns BigRock Engineering, which markets products he invented, including high-tech guitar picks.
10. James Cobum
hotflick.net
The knife-wielding badass of "The Magnificent Seven" sounded more like a flower child when he participated in a Playboy panel discussion of the "Drug Revolution" in 1970. Speaking of "the new dimension of love" that cannabis and LSD "open up," Coburn—a longtime pothead who'd taken acid and peyote before they were illegal—noted that "something new is forming. I guess it's in kind of an embryonic stage now."
11. Robert Mitchum
cinemagia
He might even be high in this photo. Old Hollywood's most unapologetic pot smokers, Mitchum was caught in a sting operation in 1948 and spent a week in county jail and 43 days on a prison farm for possession of marijuana. Taking the experience in stride—he told a reporter prison was "just like Palm Springs, but without the riffraff"—Mitchum displayed the same cool he'd exhibited onscreen a year earlier in "Out of the Past."

12. Ava Gardner
wikipedia
"I adored him. He was outrageous," she said of Robert Mitchum, who turned her on to marijuana on the set of "My Forbidden Past" in 1951. "In front of reporters, he'd call to his makeup man: 'Hey, bring me some of that good shit, man.' He didn't give a fuck." Gardner asked Mitchum to marry her, though she preferred alcohol to pot. "It's OK with me, baby," he replied. "But you'll have to clear it up with Dorothy [his wife] first."

13. Steve McQueen
wikipedia
Before McQueen shot the sickest car chase ever through the streets of San Francisco, he became friends with William Claxton, a man who photographed many jazz musicians. The two became friends at the beginning of McQueen's career. Later in life, Claxton said the King of Cool smoked weed almost every day.
14. Larry Hagman
The story goes Jack Nicholson turned Hagman onto weed in Acapulco, and David Crosby introduced him to LSD after a concert in the 1960's. Hagman went on to be the lucky guy in I Dream of Jeannie and then onto fame as J.R. in Dallas.

Hagman was a heavy drinker throughout his career and began suggesting marijuana as an alternative to alcohol. Before he died from cancer in 2012, he used marijuana to regain his appetite while going through treatment.
15. Rodney Dangerfield
purpleclover
At the age of 21, Dangerfield smoked his first joint and the rest they say is history. He was a lifelong pothead for 62 years and even referred to marijuana as the love of his life in his 2005 memoir, It's Not Easy Bein' Me. It's not a mistake he starred in one of the biggest stoner flicks of all time—Caddyshack. Dangerfield recounted marijuana helped him with anxiety among other ailments. In his book he stated, "I tell ya, that marijuana really has an effect on you. The other day I smoked a half a joint and I got so hungry, I ate the other half."
h/t purple clover