The Sexxpot Marijuana Strain Was Designed to Help Women Have Amazing Sex
While searching for just the right strain to use with her sexual partner, Karyn Wagner from Humboldt County's Paradigm Cannabis Group stumbled across 'Mr. Nice', an indica dominant strain with lineage pointing to the legendary G13 strain. After going through different rounds of experimentation of other strains with her partner she put Mr. Nice to the test.
The results were explosive. "That was very good for me," she said to her partner while catching her breath.
Mr. Nice transformed Wagner into a real life Samantha Jones. She and her partner decided to tweak it a bit and call it "Sexxpot". She explained it's not bred specifically to boost a woman's libido as much as it's designed to help a woman's cerebral mood by providing a euphoric experience without getting too high.
At around 14% THC it's on the low end of the potency scale, but what it lacks in horsepower it makes up for with finesse. Sexxpot knows how to pull all the right levers to get you into the right headspace while giving the body a little extra tingle.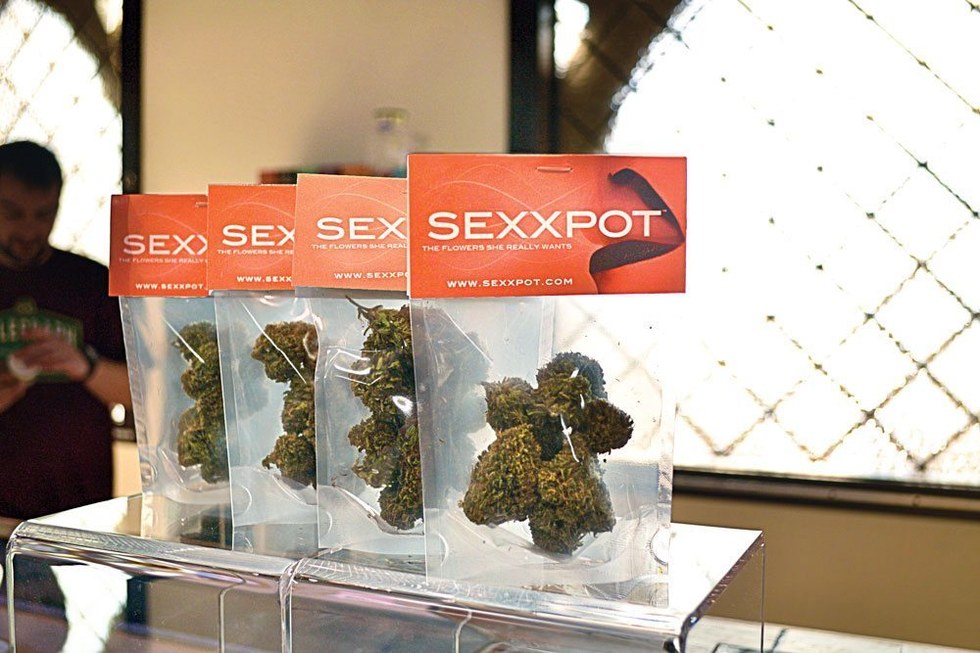 photo: Sexxpot
Does it work for all women?
"I've always been high strung during sex," one woman told me on a recent evening during an industry event at Oaksterdam University. Sure enough, after a few puffs of Sexxpot, her desire and her tactile sensitivity grew.
That wasn't all.
She and her partner were able to experience synchronous orgasms and sensational ones achieved in force, she said, providing detail that caused this reporter to blush a little.

Despite women praising Sexxpot's place in the bedroom, dispensaries have thus far given Sexxpot the cold shoulder.
"The male dominated buying community doesn't understand the need for the product." Dispensaries say It won't sell.
"But you need to cater to a female market and let them know they have it," Wagner said.
Phytologie Wellness in Oakland is one of the few bay area dispensaries to focus on women-specific products. Phytologie's wellness director and operator, Aundre Speciale indicates women make up roughly 40% of the customer base.
"There's an enormous need" for women-friendly cannabis products", said Speciale, who notes her customer base often mentions how hard it is to find cannabis products geared toward women.
Nurse practitioner, Eloise Theisen said in an interview "somen just need less THC in general, and high levels of THC can promote anti-estrogen activity." She went on to add, "my guess is that Sexxpot, with lower THC, regulates the body's endocannabinoid system and helps bring back the balance of hormones, but without sacrificing the therapeutic properties."
Perhaps Wagner describes it best on her company website:
"Turn down the volume… Dial up the heat…Favorite child of the legendary Mr. Nice, only recently came out of seclusion. Sexxpot's embrace is smooth, sweet and mild. You'll be swept off your feet, melting in its arms Mmmm… There's something in the air."