video, pot, health, edibles, medibles, cbd, thc, cannabis, marijuana, weed, youtube.com, mmj, twins, life, herbs, fitness, 420, organic, mixed nuts, medicalmarijuana, workoutgym, boygirltwins, smoothie, treino, eatclean, orange, musclenation, sous vide, recipe, workout, vegan, winelover🍷, zyzzbr, mom, motivacion, kidstagram, gethealthynow, almonds, cannabiscommunity, foodstagram, kadorr, kidsfood, instafood, pump, guaratingueta, personal, medicalcannabis, instagram.com, teamultrashop, 13memo, yum, berry, bestofvegan, weedlife420, love, desafioaceito, smoothiebee, babyfoodrecipes, bbg, ganja, trail mix, picoftheday, odessa, spicy, weedlife, gym, fresh, babyfood, happyness, healthy, foco, happy, vegetarian, greensmoothie, cannabiscures, raw, breakfast, personaltrainer, nuts, veganfoodshare, fitnessfood, instafit, zyzz, fitspo, artcorpo, gethealthywithcannabis, fruit, cubapersonal, healthylifestyle, detox, lunch, feedfeed, academia, sous weed, winelife, thefitmrs
A few weeks ago we introduced you to the 90-day #GetHealthyWithCannabis challenge. The idea is simple: use cannabis to not only lose weight but to kick depression in the pants.
The holidays and the post-election world we live in along with having a 6-month old baby have created a pretty strong feeling of depression for me. Two weeks in and things are on track.

The general strategy is to put the most emphasis on eating healthier and include cannabis in my diet to improve energy, boost overall mood and relieve pain.
Week 1 FitBit stats: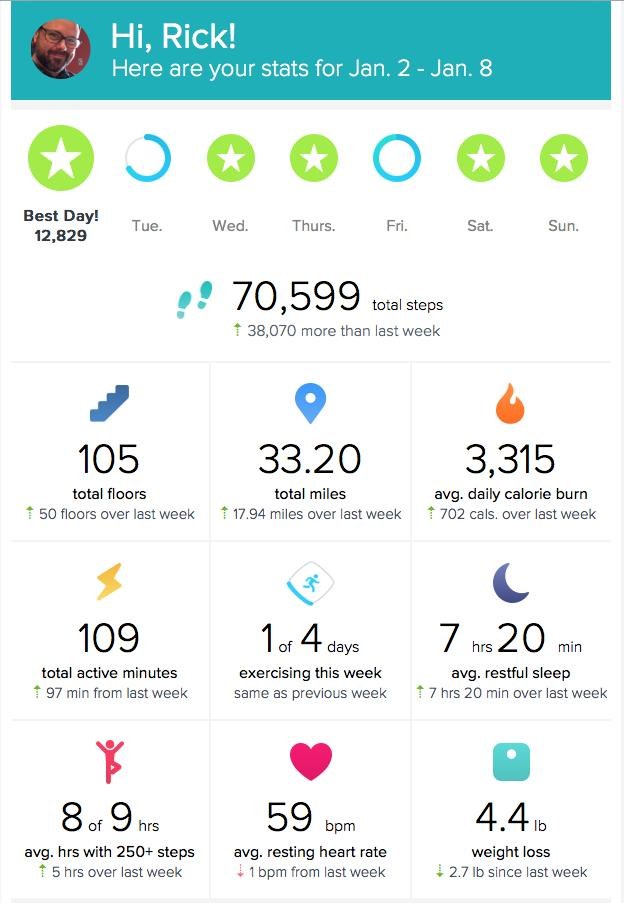 FitBit helps track my physical activity from week to week. If you have it and use it, you've probably seen this dashboard. In week one I didn't do anything out of the ordinary. I worked out 3 days, however, my FitBit setting is to count 40 minutes of activity as a workout. My dashboard shows I only had 1 day of exercise when in fact I had 3 days—two of which were both 38 minutes of exercise.
I didn't do a bunch of crazy workouts like on TV. I didn't cut carbs from my diet. I'm not even "dieting" per se. Just being consistent with being active and eating smaller portions.
On average I'm eating 1,800 calories a day and drinking 80 oz. of water.
Instagram photo by Rick Bakas • Jan 10, 2017 at 3:09am UTC

        </div></blockquote></div><p><br></p><p>
<br>


Cannabis + Working Out Diary


MONDAY Jan. 2nd—thrilled to be here :-/

- Treadmill for 35 minutes at moderate pace


- stretch


- 3 x 10 standing squats (alternating with standing press)


- 3 x 10 standing presses (alternating with standing squats)


- 3 x 15 sit ups on ball


- plank

About an hour after working out I'm starting to feel it. What did I expect? Workouts have been few and far between over the past year so of course my muscles are going to be sore. My right calf began to hurt after getting off the treadmill, so I rubbed some homemade CBD-infused coconut oil on it. Within about a minute the pain is gone.





TUESDAY:

Sore! Before we got pregnant 16 months ago I had been going to the gym on a regular basis. Somewhere along the way I stopped going, and stopped eating a proper diet. Today is the day I really felt it, but in a good way. As your body gets older it doesn't bounce back as easily.





WEDNESDAY:

I did this video 3 times and it kicked my ass:




THURSDAY:

-- Treadmill for 35 minutes at moderate pace

- plyometric stretching

- 3 x 15 arm bar dips

- 3 x 10 overhead press

- 1 time through the fat burn video from above

- 3 x 15 sit ups

- plank

My arms were feeling it. Just like my legs earlier in the week, some of those muscle groups haven't been used in a while. I used an eye dropper full of a strain called Harlequin (aka tincture) which didn't taste super yummy but helped alleviate some pain and also helps to boost my overall mood. Harlequin can help with depression and provides little psychoactive effects.

data-instgrm-captioned data-instgrm-version="4" style=" background:#FFF; border:0; border-radius:3px; box-shadow:0 0 1px 0 rgba(0,0,0,0.5),0 1px 10px 0 rgba(0,0,0,0.15); margin: 1px; max-width:658px; padding:0; width:99.375%; width:-webkit-calc(100% - 2px); width:calc(100% - 2px);">




FRIDAY:

- Instead of going to the gym, today I decided to take my boy for a nice long walk in the baby jogger. Just trying to stay active and feed that little FitBit monster on my wrist. It's always hungry!

Later in the afternoon I had a pretty bad headache. To treat it I rubbed some of the CBD-infused coconut oil on my temples and medicated with some Sour Diesel via vape pen helped minimize the pain. Definitely a winning combination!










CANNABIS + EATING HEALTHY

Eating cannabis doesn't mean you have to get high. CBD strains with little to no psychoactive effects can be infused into fatty ingredients like butter, olive oil and coconut oil. These are trinity of ingredients I keep on hand at all times to cook with. Two favorite strains to use are ACDC and Harlequin.

I'm not doing a "diet" where I cut out carbs or remove sugar. I've done those diets and they might work in the short term, but the weight always comes back. To make this a longer term success I'm eating smaller portions and everything organic.

I've been in the wine industry for years, and having wine with dinner is a standard part of my day. For this 90-day challenge I'm not drinking wine during the week and instead I use a CBD vape pen cartridge to reduce the urge to have alcohol.

MONDAY:

- Today's morning smoothie Strawberry Pea smoothie made with hemp seeds from Whole Foods.

photo: sousweed.com

- For lunch I had some tomato soup and a salad with butter lettuce, jalapeno hummus, red bell peppers and a red wine vinaigrette made with CBD-infused olive oil.

- Dinner is where I actually do try to cut carbs. Carbs for breakfast and lunch are fine because I'll burn them throughout the day, but at this time of day I don't need them. So we got creative with some medicated lamb meat balls that were delicious!

photo: sousweed.com




TUESDAY:

- Breakfast today consisted of Wake n' Bake Avocado Toast and coffee from our new Nespresso coffee maker. Here in Cali we love our avocados. It's one of my 2-year old's favorite things to eat. He, of course, gets avocado toast that isn't medicated. But he takes his coffee black.

photo: sousweed.com




WEDNESDAY:

- Matcha smoothies are a new favorite. Our Matcha Made in Heaven smoothie uses ingredients you can find at Whole Foods. The market has a surprising number of hemp food products available on the shelf, many of which can go into a smoothie.

- Lunch consisted of an Albacore Tuna Salad Niçoise out at a local cafe. If I were to make this at home I would have used the CBD-infused olive oil.

- Burger and a beer. Like I said, I'm not on a 'diet' but I am counting my calories. For the week I'm almost 4,000 calories under my weekly target, so I picked my spot to enjoy something I don't have very often.




THURSDAY:

- Today's hearty farm fresh breakfast is made with cannabis-infused olive oil and a little infused lard. The eggs are cooked sous vide style so the whites are firm and the yolks are a bit runny. We served them over seasonal greens cooked in a skillet. Again, the cannabis is high in CBD so there's little to no cerebral effects. Just the medical benefit of CBD that has been helping boost my mood and keep pain to a minimum.

photo: sousweed.com

- For lunch I had some tomato soup and a salad with butter lettuce, jalapeno hummus, red bell peppers and a red wine vinaigrette made with CBD-infused olive oil.

- Dinner time




FRIDAY:

- For brekkie I made the Tater Gonna Tate Sweet Potato and Orange Hemp Seed Smoothie. It's a moutfh full, but in a good way.

Also for breakfast I wanted to try something a bit different. Salmon is a personal favorite, and this recipe for Kief & Kaffir Lime Gravlax seemed like an interesting way to end the week. It was DE-licious!




- Afternoon snack