5 Subscription Boxes For The Cannabis Enthusiast
Wouldn't it be awesome if all of your monthly cannabis essentials appeared on your front door? The subscription box market is relatively new but there are a pretty decent amount of cannabis themed subscription boxes popping up to meet demand.
Most boxes offer different levels or packages to choose from such as a 1-3 month subscription, smokers box or dabbers box, combination boxes or just a regular 5-8 item box of surprises. All of the companies offer discreet shipping in a well assembled gift dropped off at your doorstep each month courtesy of the USPS. Here's a few we like:
One Month Cost- $29.99 Shipping- Free! Use coupon code 'weedhorn' to get 10% off.
Products- 10+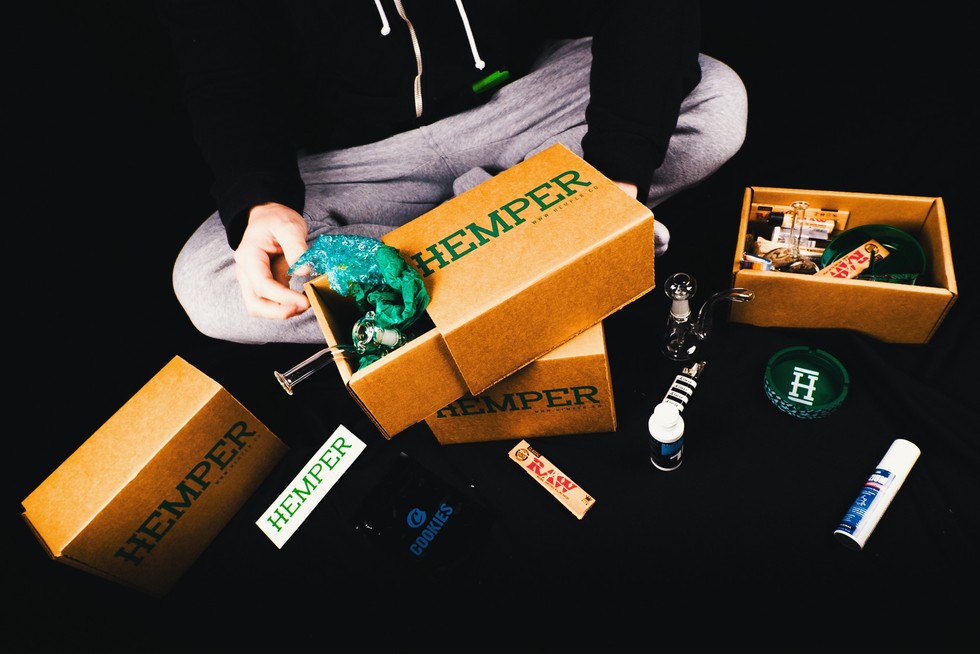 Hemper exploded on the scene in 2015 as the 'Cannabis box of the celebrity world'. Hemper customers include Seth Rogan, Boo Johnson, Q from Worldstar, Melissa Etheridge, Waka Flocka, Kenny Scharf and The Game among others.
Everything in the box is limited edition, which means you won't find it any head shop or gas station. Hemper is now getting celebrities to curate their own boxes. Cypress Hill could have gone to anyone for their 25th Anniversary, but they chose Hemper to partner on one of the most sought after celebrity curated boxes in the world. That's a big deal.
2. Deluxe Box -
Products: 13
If you could take a cannabis spa and put it in a box this would be it. Treat yourself (or someone you really like, like a girlfriend or a mom) to WeedHorn's curated deluxe box of cannabis-infused indulgence.

Soothe sore muscles with Empower Oil's new white label CBD roll-on oil pain stick, or soak in a warm bath of Empower's CBD bath salts. Wash away the day's troubles with legendary Dr. Bronner's Hemp soap made with sustainable, GMO-free organic materials. Build your glass collection with a GRAV Labs glass taster pipe, or roll yourself a tasty little joint on the Hemper rolling tray and RAW rolling cones.
3. Stashbox
One Month -$29.95 Shipping Cost- Free
Products- 5+
Stashbox is another subscription box perfect for the avid stoner as boxes are curated with the best munchies, apparel, lighters, goodies, glass, and so much more. There is a five item minimum for the boxes but unlike any other company do not set a maximum with a promise to fill the boxes as much as possible. Subscriptions range from 1-6 months and the company also selects random subscribers each month for prizes upon sharing their stashbox photos to social media using the hashtag #GetStashBox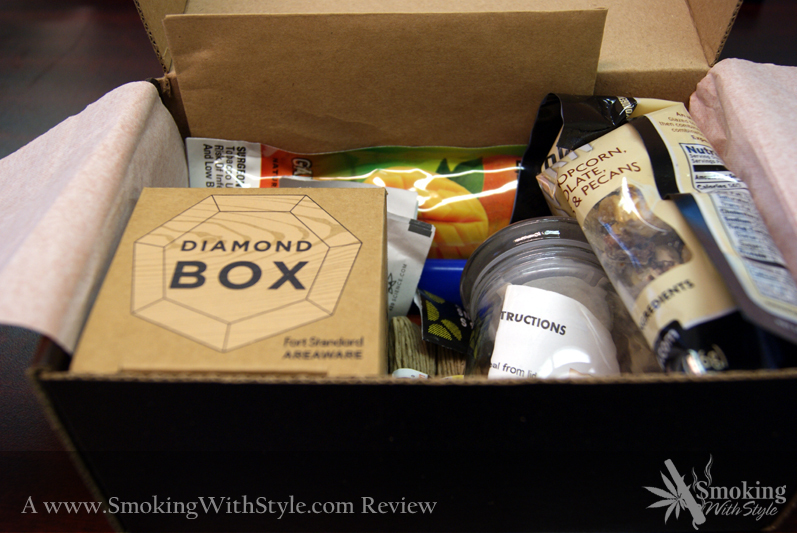 Previous Stashbox on SmokingWithStyle
4. 420Goody Box
Regular Box One Month- $22.98 Shipping- $7.95

Products 5-8

Top Shelf Box - $79.95
Products 6-11
420 Goodybox offers two types of subscriptions to choose from, a regular Goodybox or a Top Shelf Box. A regular box is curated with 5-8 items of stoney gear, munchies and essentials shipped monthly. Unlike most boxes the 420 GoodyBox offers a 100% money back guarantee. The top shelf boxes deliver 1-3 top shelf products along with the 5-8 regular goodies with a value of over $300! The company also has an online shop where you can find lots of popular products sweeping through the market right now . Like many others they randomly select subscribers who share their #420GoodyBox experience on social media for a free $300 Mega Box jam packed with goodies.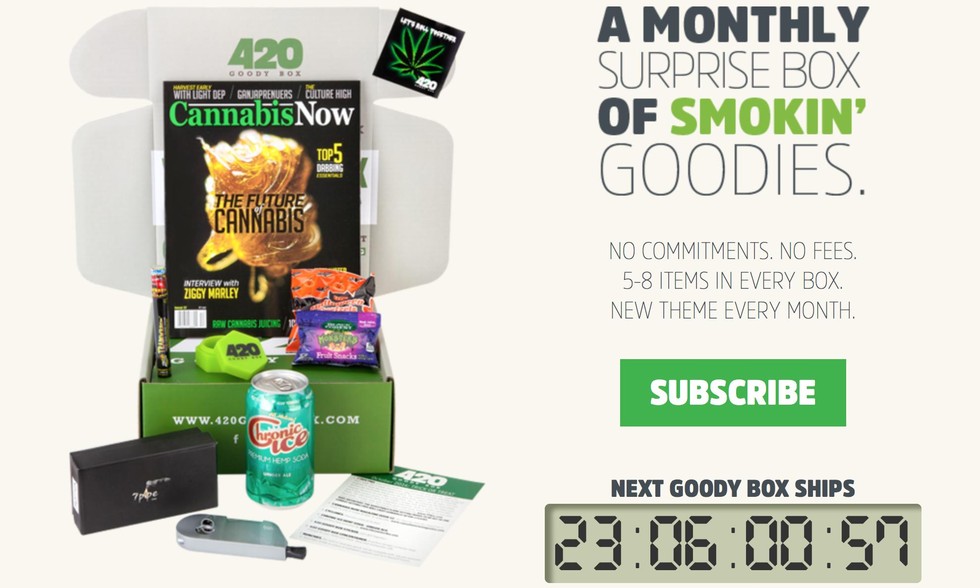 Photo Credit: 420GoodyBox.co
5. Green Bake Box
One Month $30 Shipping-Free Shipping
Products 12-15
The Green Bake Box offers 1-6 month subscriptions. The contents are never revealed as that is part of the fun. Boxes are shipped out each month between the 16th & 18th with the goal of arriving by the 20th unless of course a holiday is around the corner. Green Bake Box ships to the U.S. for free and charges $15 to ship to Canada, and $20 for the U.K. and Europe. If you're feeling like a baller and sign up the 6-month subscription plan at $155 they send you a smokers starter kit.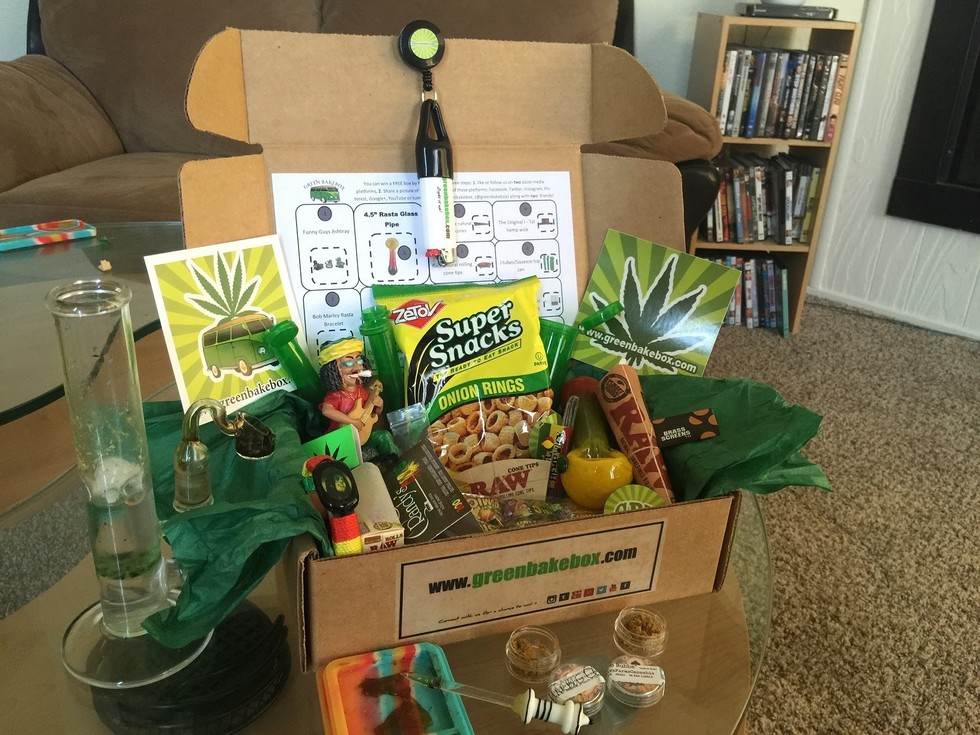 Photo Credit- youtube