Seth Kadish from Tika Analytics runs a tumblr blog called Vizual-Statistix where he finds data and makes it visual for ease of comprehension. We thought it would be fun to look at the emerging cannabis market in some sexy geekiness.

Portland's Strains Market Index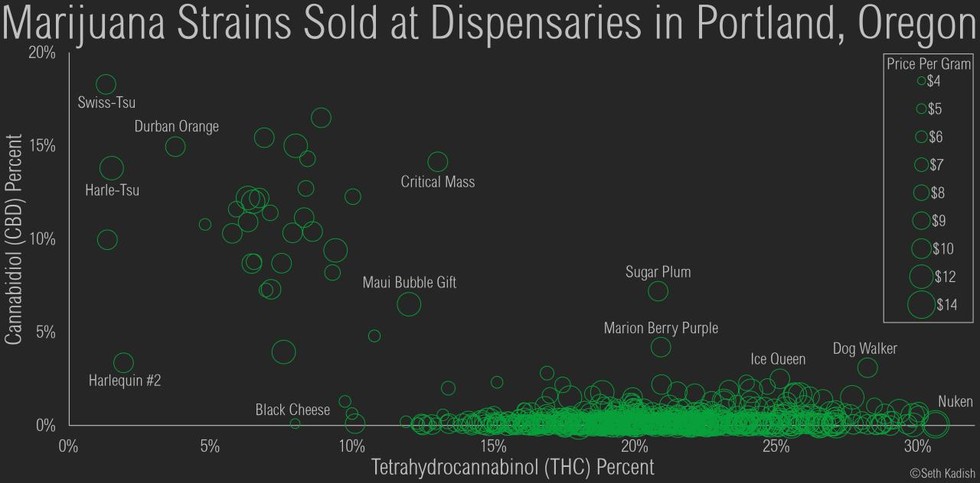 via vizual-statistix on tumblr
Oregon's legalized recreational marijuana sales began October 1st, 2015. Looking at data from the Portland pot market shows some interested strain data.
Here Seth pulled Leafly data for 850 items from 22 dispensaries in Portland and plotted the data out to show strains high in THC next to strains high in CBD. He also factored in price per gram data notated by the size of the circle.
Over on the upper left is Swiss-Tsu appearing to be the highest CBD strain in the Portland market. Over on the other side is Nuken displayed at the far right over 30% THC (yes, please!). For patients looking for the best of both worlds is a strain called Critical Mass right there in the middle.
How Are Oregonians Feeling About Weed?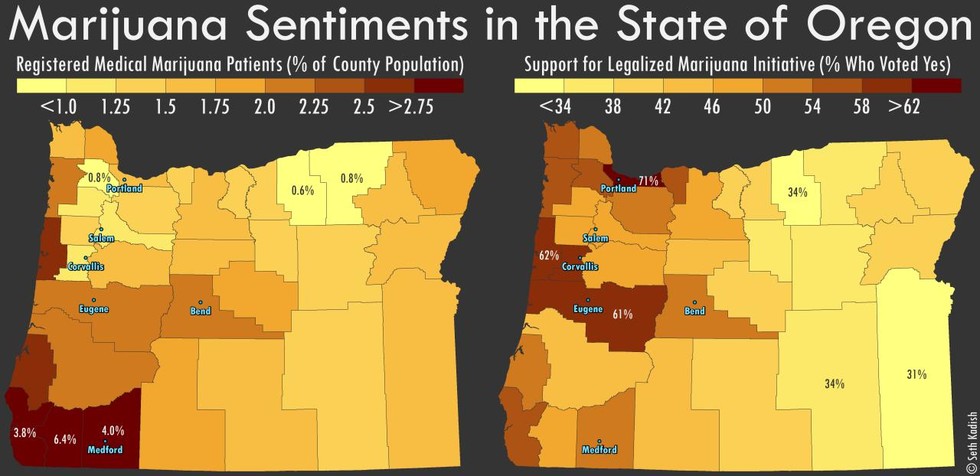 via vizual-statistix on tumblr
The next chart compares the geographical support of recreational marijuana legalization versus a map of registered medical marijuana patients leading up to the approval of Measure 91.
While there is a correlation between geography and leanings, the western counties closer to the I-5 corridor have a higher percentages of both. On the other end the spectrum, Morrow County had the lowest percentages of both.
The Oregon Effect on Washington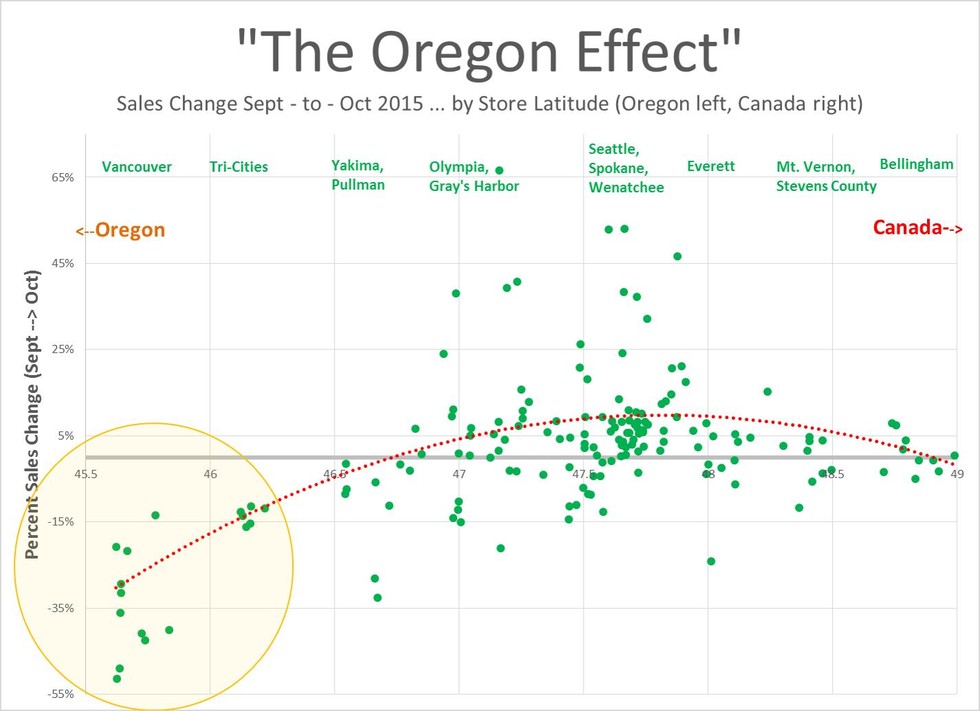 via highintelligence
Turn your head to the right. The yellow circle at the "bottom" represents the Vancouver, Washington geographical area just over the state line from Portland, Oregon. As you follow the red dotted line "north" it ends around the border of Canada.
If you turn your head back to center, the chart has contextual data that shows the change in sales between September, 2015 and October, 2015. The red dotted line curves down to -35% the closer you get to the Oregon state line. Translated, it means sales went down the closer you get to Oregon right after recreational cannabis sales began October 1, 2015. And the farther you get away from the Oregon state line, the more sales in Washington increased.
City names have been added for reference. Not surprisingly, sales break even around an hour drive away from the Oregon state line.