Bella Chinonis suffers from the rare 1p36 deletion syndrome that causes some serious problems, including developmental delays, seizures and limited speech ability.
Based in Grand Blanc, Bella is one of just 150 under-18's prescribed medical marijuana and/or cannabis oil in the state of Michigan.
Speaking to local media, Ida Chinonis, Bella's mother has described how the cannabis oil has changed her young daughter's life;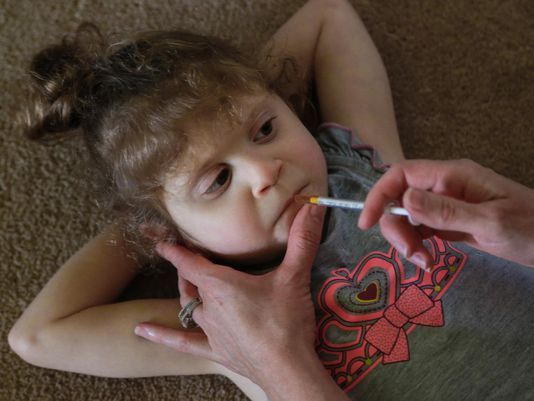 ---
"She can stand now. She responds to voices and she loves the movie 'Frozen.' She didn't do that before and the only thing different we are doing is giving her medical marijuana."
The process to make sure Bella had access to cannabis oil was not easy. The Chinonis' neurologist did not prescribe cannabis based medicine so the family had to look elsewhere.
Another challenge for the family was that the Michigan medical marijuana program states that two doctors must approve the use of medical cannabis in anyone under 18.
Luckily for the Chinonis', medical professionals from Detroit and Texas approved Bella for cannabis oil after examinations.
Bella's oil has been created specifically for her illness, with an exact THC/CBD ratio ensuring that the 6-year-old receives the correct cannabis oil dose of medicine.
The Chinonis' consider themselves lucky to have access to this medicine but are aware that many other children like Bella are still suffering due to cannabis laws.
They hope that one day, every child will have access to medicine that can improve their life significantly, just as cannabis oil has done for young Bella.