video, pot, cannabis, weed, youtube.com, mmj, california, sativa, indica, vaporizers, smoking, 420, cannabiscommunity, instagram.com, raw, kush, highsociety, highlife, weedporn, gift, repostwhiz, goodtimes, smokinbowls, beachlife, ps4, cofam, newagehippy, lightersup, hightimes, greeningcorporatecannabis, ggdub, santabarbara, stayhigh, goodmorning, emeraldcup2016, dutchgang, the mighty, smokegood, instructions, morningmotivation, cannabiskitchencookbook, loudpack, blazing, maryjane, stockingstuffer, modernityhippyish, stonergear, giftidea, rawlife, sunrise, feelgoodfood, notill, sun, rollup, aliveandwell, permaculture, sunisshining, livingsoil, happytimes, stayinalive, greendragon, smokebydao, pothead, riseandshine, milehighsociety, how tos, smoke, grav labs, paperplanes, cannabistincture, tuesday, pokeitpackitpuffitpassit, the crafty, heady glass, blowed, sustainablecannabis, smokingstrong, goodbuds, cannabiskitchen, sunshine, gas, smokebydazip, emeraldcup, multitool, lighterbro, 24kgoldshinepapers, dank, jane west, rawwithfilter, tokerpoker, cannacuisine, weshouldsmoke, highasshit, californiaholics, getlit, workday, permalosconsulting, tokerpokerloyal, wakeup, blunt, classy, kingsofkushco, grav glass, volcanovape, ckc, smoker, keepitlit, onlythatloud, islandvibes, weedhead, 805, wakeandbake
The first time I heard Jane West's name was several years ago, Christmastime. I remember because I was visiting my folks in Colorado, and they were watching their local NBC affiliate, as always. Not surprisingly, being this time of year, the chipper voice of the female newscaster announced that the next segment was about holiday entertaining, but, before you say, "Oh, here we go again,"—wait for it—holiday entertaining with cannabis.
Christmas and Cannabis, WHAT???!
Gets better: so the segment kicks in and I hear this woman describe herself as "one part Martha Stewart and one part Walter White." It was a record-scratching moment, alright; I vividly remember thinking, Martha Stewart crossed with Walter White? I look up and there she was: long dark hair and stylish tortoiseshell specs: one look at Jane and her weed-inspired holiday entertaining ideas, and hearts and minds were forever changed. Mine included.
Simply being herself, Jane West brought classiness to the table, literally and figuratively, demonstrating in her own home how cannabis provides the perfect opportunity to gather together and to bring the fine art of entertaining into the picture. And it was groundbreaking.
As co-founder of Women Grow, Jane is proof positive that there is no better way to rise in this world than by helping other women get a foothold and take a step toward their own dreams. Today, having passed the leadership of Women Grow to a new generation, what hasn't changed in the past few years is that Jane remains her own woman with her own vision.
This week, on December 15, she debuts her design line, and from what I've seen, as easy as it would be to make a catchy comparison, call her "the Kate Spade of spliff," I won't. Because three years later, she is Jane West, beyond comparison.
So who better to play personal shopper for all of you out there who want to get that someone something cannabis-y, but don't know where to begin. No worries, weed fans, old and new: Jane West has got you covered, and we are so very grateful for her help.
Happy Holiday, Peace on Earth.
1. FOR "The Old Stoner Ready for The New Age"
The MIGHTY is the perfect vaporizer for the baby boomer looking for an upgrade. With it's intuitive design, large LED display, and simple arrow button controls, the Mighty is the perfect onboard to modern smoking for the old stoner in your life. Plus, it's a healthier way to consume than by smoking the joints he is rolling up, and it burns less of your cannabis in a single session, making each ziplock baggie last longer.

2. FOR Grandma

A salve. Older consumers use salves for a wide variety of ailments, from psoriasis to tremors to standard aches and pains. Easy to apply and without psychoactive properties, salves are a great way to introduce cannabis to grandma. Here are my top recommendations:

The Remedy Pain Stick fits right in your purse, and you can apply directly to the areas you feel pain or stress. It's the perfect travel companion.
Sweet ReLeaf is an organic, all-natural body butter that offers relief from a number of ailments. It's not sticky and the smell is pleasant, unlike many other salves.
Mary Jane's Medicinals Body & Massage Oil is the perfect lotion for people experiencing all-over pain. Use it during your next full body massage—you won't be disappointed.
3. FOR The Newbie
Have a friend that is canna-curious but just doesn't know where to start? Build a DIY newbie gift set to get them started. I recommend a three gram set that offers a range of experiences: one lemony sativa, one earthy indica, and a high CBD strain. Wrap them up with a small standard pipe, or for people on the top of your list, I highly recommend The Steamroller from my new glass collaboration with Grav Labs. I might be a bit biased, but with its elevated bowl, ergonomic design, and large carb, this to me is the perfect starter pipe.

4. FOR "The Artsy Friend with Handmade Shit All Over Her House"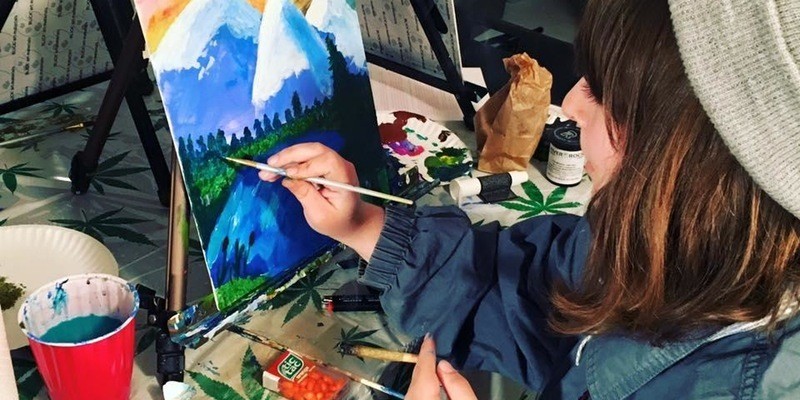 photo: marijuanas.org
She's the crafty queen of Etsy with all kinds of projects in the works, and you just know cannabis will further her artistic pursuits. Put together an experience that uses cannabis to inspire her creativity in a fun social setting.

A gift certificate to Puff Pass and Paint - it's the first ever cannabis-friendly all inclusive art class. Two hours of creativity, collaboration, and cannabis.
Samples of your favorite infused product/edible (the classes are BYOC, so they are the perfect items to take along).
Uber gift certificate for a safe trip home
5. FOR The Thrift Store Lover
Instagram photo by Breezy Life • Dec 5, 2016 at 2:10pm UTC

        </div></blockquote></div><p>Upcycle hand-selected finds to create gift sets. Many vintage and used items can be reused as ash receptacles and rolling trays. Build your own rolling tray gift set with:<br></p><ol> <li>A vintage/upcycled tray</li> <li>An ashtray or cut glass dish</li> <li>Rolling papers (these <a href="http://shinepapers.com/" target="_blank">24k gold Shine papers</a> will impress even your fanciest friend)</li> <li>Matches or a vintage lighter </li> </ol><div><br></div><h2>6. FOR The Audiophile</h2><p class="shortcode-media shortcode-media-rebelmouse-image"><img src="https://assets.rbl.ms/9024517/980x.jpg" id="624e1" class="rm-shortcode" data-rm-shortcode-id="7XJZIN1490723761" data-rm-shortcode-name="rebelmouse-image" ><small placeholder="add photo credit..." class="image-media media-photo-credit">photo: flickr/nkashirin</small></p><ol> <li>Kick ass headphones</li> <li>A preroll of a strain known to tune you into good music </li> <li>A Spotify playlist made just for them </li> </ol><div><br></div><h2>7. FOR The Foodie</h2><div id="83311" class="rm-shortcode" data-rm-shortcode-id="0MOMOI1486061379"><blockquote class="instagram-media"
        data-instgrm-captioned data-instgrm-version="4" style=" background:#FFF; border:0;
        border-radius:3px; box-shadow:0 0 1px 0 rgba(0,0,0,0.5),0 1px 10px 0 rgba(0,0,0,0.15);
        margin: 1px; max-width:658px; padding:0; width:99.375%; width:-webkit-calc(100% - 2px);
        width:calc(100% - 2px);">
        <div style="padding:8px;">
        <div style=" background:#F8F8F8; line-height:0; margin-top:40px; padding:50% 0; text-align:center;
        width:100%;">
        <div style=" background:url(data:image/png;base64,iVBORw0KGgoAAAANSUhEUgAAACwAAAAsCAMAAAApWqozAAAAGFBMVEUiIiI9PT0eHh4gIB4hIBkcHBwcHBwcHBydr+JQAAAACHRSTlMABA4YHyQsM5jtaMwAAADfSURBVDjL7ZVBEgMhCAQBAf//42xcNbpAqakcM0ftUmFAAIBE81IqBJdS3lS6zs3bIpB9WED3YYXFPmHRfT8sgyrCP1x8uEUxLMzNWElFOYCV6mHWWwMzdPEKHlhLw7NWJqkHc4uIZphavDzA2JPzUDsBZziNae2S6owH8xPmX8G7zzgKEOPUoYHvGz1TBCxMkd3kwNVbU0gKHkx+iZILf77IofhrY1nYFnB/lQPb79drWOyJVa/DAvg9B/rLB4cC+Nqgdz/TvBbBnr6GBReqn/nRmDgaQEej7WhonozjF+Y2I/fZou/qAAAAAElFTkSuQmCC);
        display:block; height:44px; margin:0 auto -44px; position:relative; top:-22px; width:44px;">
        </div></div><p style=" margin:8px 0 0 0; padding:0 4px;">
        <a href="https://www.instagram.com/p/8D2ijcKNAX/" style=" color:#000; font-family:Arial,sans-serif;
        font-size:14px; font-style:normal; font-weight:normal; line-height:17px; text-decoration:none;
        word-wrap:break-word;" target="_top">Instagram photo by FullFlava • Sep 25, 2015 at 4:24pm UTC</a></p>
        </div></blockquote></div><p>A gift bag with everything one needs to get started with cannabis cooking:<br></p><ol> <li><a href="http://www.cannabiskitchencookbook.com/" target="_blank">The Cannabis Kitchen Cookbook</a> - not only does it have amazing recipes from America's top cannabis chefs, it also educates you about the plant along the way.</li> <li>⅛ ounce of cannabis flower</li> <li>A strainer</li> <li>A cheesecloth</li> </ol><div><br></div><h2>8. FOR The Random Guest</h2><div id="d4807" class="rm-shortcode" data-rm-shortcode-id="9O323P1486061380"><blockquote class="instagram-media"
        data-instgrm-captioned data-instgrm-version="4" style=" background:#FFF; border:0;
        border-radius:3px; box-shadow:0 0 1px 0 rgba(0,0,0,0.5),0 1px 10px 0 rgba(0,0,0,0.15);
        margin: 1px; max-width:658px; padding:0; width:99.375%; width:-webkit-calc(100% - 2px);
        width:calc(100% - 2px);">
        <div style="padding:8px;">
        <div style=" background:#F8F8F8; line-height:0; margin-top:40px; padding:50% 0; text-align:center;
        width:100%;">
        <div style=" background:url(data:image/png;base64,iVBORw0KGgoAAAANSUhEUgAAACwAAAAsCAMAAAApWqozAAAAGFBMVEUiIiI9PT0eHh4gIB4hIBkcHBwcHBwcHBydr+JQAAAACHRSTlMABA4YHyQsM5jtaMwAAADfSURBVDjL7ZVBEgMhCAQBAf//42xcNbpAqakcM0ftUmFAAIBE81IqBJdS3lS6zs3bIpB9WED3YYXFPmHRfT8sgyrCP1x8uEUxLMzNWElFOYCV6mHWWwMzdPEKHlhLw7NWJqkHc4uIZphavDzA2JPzUDsBZziNae2S6owH8xPmX8G7zzgKEOPUoYHvGz1TBCxMkd3kwNVbU0gKHkx+iZILf77IofhrY1nYFnB/lQPb79drWOyJVa/DAvg9B/rLB4cC+Nqgdz/TvBbBnr6GBReqn/nRmDgaQEej7WhonozjF+Y2I/fZou/qAAAAAElFTkSuQmCC);
        display:block; height:44px; margin:0 auto -44px; position:relative; top:-22px; width:44px;">
        </div></div><p style=" margin:8px 0 0 0; padding:0 4px;">
        <a href="https://www.instagram.com/p/BL_WaRXBoVf/" style=" color:#000; font-family:Arial,sans-serif;
        font-size:14px; font-style:normal; font-weight:normal; line-height:17px; text-decoration:none;
        word-wrap:break-word;" target="_top">Instagram photo by LighterBro • Oct 25, 2016 at 2:49pm UTC</a></p>
        </div></blockquote></div><p>Don't leave those mystery guests who show up last minute without a treat! Keep standard stocking stuffers on hand to make sure all the adults in your celebration can take part in the cannabis fun:<br></p><ol> <li>Naughty: set of 10 pipe cleaners</li> <li>Nice: <a href="https://tokerpoker.com/" target="_blank">Toker Poker</a>- an all-inclusive smoking tool</li> <li>Very Nice: <a href="https://lighterbro.com/" target="_blank">LighterBro</a> - the Swiss Army Knife of lighters </li> </ol><div><br></div><h2>9. FOR The Family Man or Woman</h2><p class="shortcode-media shortcode-media-rebelmouse-image"><img src="https://assets.rbl.ms/9026235/980x.jpg" id="02522" class="rm-shortcode" data-rm-shortcode-id="2E65ZU1490723761" data-rm-shortcode-name="rebelmouse-image" ><small placeholder="add photo credit..." class="image-media media-photo-credit" autocomplete="off">photo: sneakguard.com</small></p><p>A <a href="https://links6.mixmaxusercontent.com/vDQji77RHsXobittK/l/U4vXB7W4EiKhzcbdB?messageId=EVwcshmJ7CKYuJeWx&amp;rn=iMXYrFmQgs2YpJlI&amp;re=gIt92Yu4mcvhGZlV2dAt2YpJnI" target="_blank">SneakGuard</a> - Nothing makes 3 hours of playdough with your little ones more fun than a <a href="http://www.sweetgrasskitchen.com/" target="_blank">Sweet Grass</a> cookie, but you need to ensure adult treats stay out of those little hands. The SneakGuard offers secure storage that safeguards your stash (and the kiddos) from every storage-related threat, and provides the ultimate peace of mind.<br></p><p>** Fans of Jane West can use the discount code <strong>janewest </strong>to get the SneakGuard for $89 ea. + FREE shipping in the continental U.S. (Reg. $119.99).</p><p><br></p><h2>FOR Yours Truly…</h2><div id="b4a5b" class="rm-shortcode" data-rm-shortcode-id="5IY7491486061380"><blockquote class="instagram-media"
        data-instgrm-captioned data-instgrm-version="4" style=" background:#FFF; border:0;
        border-radius:3px; box-shadow:0 0 1px 0 rgba(0,0,0,0.5),0 1px 10px 0 rgba(0,0,0,0.15);
        margin: 1px; max-width:658px; padding:0; width:99.375%; width:-webkit-calc(100% - 2px);
        width:calc(100% - 2px);">
        <div style="padding:8px;">
        <div style=" background:#F8F8F8; line-height:0; margin-top:40px; padding:50% 0; text-align:center;
        width:100%;">
        <div style=" background:url(data:image/png;base64,iVBORw0KGgoAAAANSUhEUgAAACwAAAAsCAMAAAApWqozAAAAGFBMVEUiIiI9PT0eHh4gIB4hIBkcHBwcHBwcHBydr+JQAAAACHRSTlMABA4YHyQsM5jtaMwAAADfSURBVDjL7ZVBEgMhCAQBAf//42xcNbpAqakcM0ftUmFAAIBE81IqBJdS3lS6zs3bIpB9WED3YYXFPmHRfT8sgyrCP1x8uEUxLMzNWElFOYCV6mHWWwMzdPEKHlhLw7NWJqkHc4uIZphavDzA2JPzUDsBZziNae2S6owH8xPmX8G7zzgKEOPUoYHvGz1TBCxMkd3kwNVbU0gKHkx+iZILf77IofhrY1nYFnB/lQPb79drWOyJVa/DAvg9B/rLB4cC+Nqgdz/TvBbBnr6GBReqn/nRmDgaQEej7WhonozjF+Y2I/fZou/qAAAAAElFTkSuQmCC);
        display:block; height:44px; margin:0 auto -44px; position:relative; top:-22px; width:44px;">
        </div></div><p style=" margin:8px 0 0 0; padding:0 4px;">
        <a href="https://www.instagram.com/p/BMhOU92D_UV/" style=" color:#000; font-family:Arial,sans-serif;
        font-size:14px; font-style:normal; font-weight:normal; line-height:17px; text-decoration:none;
        word-wrap:break-word;" target="_top">Instagram photo by The Vaporist • Nov 7, 2016 at 6:33pm UTC</a></p>
        </div></blockquote></div><p>Having guests over can be stressful, so you deserve to treat yourself to a calming <a href="http://truefarma.com/product/bhutan-cbdmendo-focus-2/" target="_blank">tincture</a>. Just place a few drops under your tongue, and you'll be feeling the effects in no time. Plus, it's easy to make your own!<br></p><p>Also, don't forget that presentation is important! Prepare for your guests' arrival by purchasing some smoke soap and clean all of your glass before your friends and family arrive. Clean glass tastes best! </p><p>&#95;&#95;&#95;&#95;&#95;&#95;&#95;</p>