Former PGA caddie and Golf Channel announcer Michael Collins dropped a bombshell during a radio interview with the Golf channel. Collins not only claimed professional golfers smoke weed, but they even hot box an occasional porta-potty during competition.
"Can I believe people smoke marijuana during competition? Hell yeah, it calms you down!" he said. "And I'll be honest with you, it doesn't bother me."
Collins wouldn't name names, due in part to the fact he didn't know who exactly was in the course bathrooms right before he entered.
Collins indicated he would walk into bathrooms right after someone lit up to chill out. He went on to ask if it would be wrong for golfers to use some other substance like St. John's Wort to calm their nerves instead of cannabis.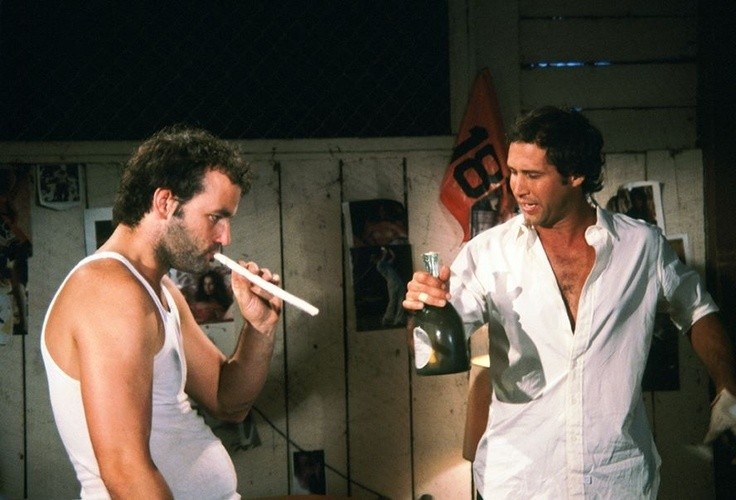 "it's a little harsh"photo: youtube
Collins' radio revelation was inspired by admissions from professional golfer Robert Garrigus who came clean about his marijuana use in a Golf Digest interview.

In the interview, Garrigus stated, "Oh yeah, there were plenty of guys on the Nationwide Tour who smoked in the middle of the round...We always talked about it. You could go in the Porta John and take your drags." Garrigus said players could relax more and relieve some of the pressure they felt during a round.
In a Reddit thread about smoking weed and golf, one user commented about hitting two balls out of bounds during a recent round, but then after smoking a bowl he scored three straight pars.
Seeing how golf is mental game, few things can calm a player's nerves and enhance focus like cannabis. Golf and weed have been a match made in heaven for decades. For example, Caddyshack, the greatest golf movie ever made had plenty of cannabis undertones to the story.
"This is a hybrid. This is a cross, ah, of bluegrass, Kentucky bluegrass, featherbed bent, and Northern California sensimilla. The amazing stuff about this is that you can play 36 holes on it in the afternoon, take it home and just get stoned to the bejeezus-belt that night on this stuff."
—Carl Spackler, Caddyshack

Bill Murray's iconic role as Carl the groundskeeper inspired a generation of 'Bob Marley joints' in one of the movie's classic scenes:
With support for cannabis legalization at an all-time high, a younger generation of golfers are more open to the idea of "putt, putt, pass". Golf courses are paying attention. The cannabis tourism site The Travel Joint has a growing list of pot-friendly golf courses in Oregon, Washington and Colorado.

Collins added he doesn't think golfers smoke in competitions like The Masters because "there's too much at stake." However, it's safe to assume the conversation about cannabis and golf is just getting started.